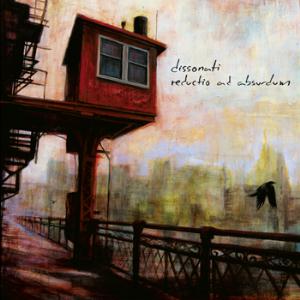 A new band from Seattle, USA with this, their debut album.
The band photo reveals that the members of this band has lived a long life and has seen it all. Not at least, heard it all. The listening sessions also make me believe this band has heard it all too. The music on Reductio Ad Absurdum is a crossover between King Crimson, Italian symphonic prog, rock, jazz, eclectic prog, Van Der Graaf Generator, Kansas, Rio (Rock In Opposition), Canterbury scene and actually some subtle zeuhl too. The instrumentation is drums, bass, tangents, guitars and saxophone. That and some good vocals too.
Those who knows that other weird Seattle band, Moraine, will find a lot of joy in this album. To my knowledge, these two bands are on a friendly footing too. I would almost label Dissonati and Moraine as twins. But not quite... There are some differences though. Reductio Ad Absurdum is a lot more melodic and rock songs orientated album than Moraine's album. When that is said, Dissonati also has their avant-garde moments. In short, this is a truly eclectic prog rock album. Or maybe it is a Canterbury scene album. I cannot decide. Anyway.....
Not everything on this album is great. This album is a debut album and it straddles a lot of genres during it's fifty minutes. Most of the songs are also surprisingly catchy. You may want to dance too when listening to this album. Though catchy, there is always an avant-garde eclectic twist in the songs.
The best song on this album, the closing VDGG sounding The Sleeper, is in many respect tying up all the loose ends on this album and joining them up into a truly majestic piece of music. A superb song which elevates this album to a new level again.
This is a great album in my view and well worth checking out. The cover art work is also great too. Link to the (free to try) album has been enclosed.
4 points
The Reductio Ad Absurdum album