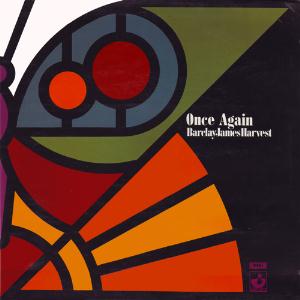 The second album from this English band. I have never really been bothered enough about Barclay James Harvest to check them out. But a lot of my friends rates them highly and their debut album was also quite a revelation. So I got some of their albums.
Once Again is supposed to be one of their best albums. I was not that impressed with it during the first two listening sessions. But this album is a grower and needs a couple of weeks to really sinks in.
The album starts with one of the truly brilliant songs on this album. The mellotron opening of She Said, that is. Woolly Wolstenholme's mellotron is really dominating this album together with John Lees's guitars and vocals. The sound is lush and the typical 1970s sound. Once Again is much more leaning on The Beatles than the likes of ELP. This album is what The Beatles would had become had they gone more progressive after the Sgt Pepper's album. Once Again is about songs. Great songs.
She Said is a brilliant song. The other brilliant song is Mocking Bird, which I believe was a hit single. A song it is difficult to get out of my head again. The rest of the songs is somewhere between very good and superb.
Once Again is highly rated by most people. A just rating in my view. I am now seriously interested in this band. Thank you for Once Again.
5 points