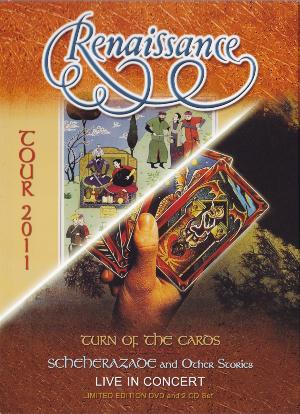 Hmm..... I am not sure if the album was released in 2011 or this year as I got the promo copy some days ago from their managment. Maybe it has been re-released this year. The full title is also Turn Of The Cards & Scheherazade And Other Stories - Live In Concert.
Both Turn Of The Cards and Scheherazade And Other Stories is two excellent albums and cornerstones in their history. Not to mention; female fronted prog/art rock. Renaissance has toured the world with a back to back rendition of these two albums during the last two years. I believe they did this set on this year's Nearfest too. But I am not sure.
Annie Haslam is still going strong at the grand age of 58. Most female vocals is not anywhere near her, with the only notable exception of Kate Bush. Annie Haslam is still the queen bee in the society of female vocalists. The other pillar in Renaissance, Michael Dunford, is also going strong and the rest of the band also does a brilliant job too. I could almost bet my house on this album being recorded in 1975 or thereabout. But it is not.
The songs are in itself excellent and I am an unrepenting fan of this band. Renaissance is in my top five list of the best bands of all time. The material on this 100 minutes long album is superb. Is this live album a masterpiece ? No. But it is still 100 minutes of pure joy. It is also an album I will keep close to my heart and easy at hand forever.
4.5 points