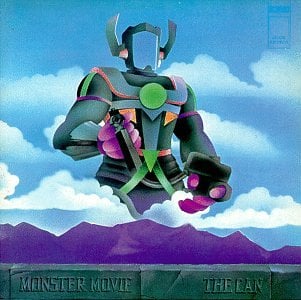 The debut album from this highly influential German band. A band who inspired the dance, house, techno and whatever computer generated music the market is dominated by today. Can is perhaps best known as one of John Peel's favourite bands. A truly eclectic cult band. I am myself a fan of their third album Tago Mago so I thought it was a good idea to get the remaining four out of their five first/best albums too.
Monster Movie displays all the hallmarks of a krautrock album. Harsh guitars and a dynamic bass thumping through repetetive, techno like melodies. Although, Monster Movie is only half of that again. The rest is more melodic music aka the San Fransisco flower power music.
The result is a pretty melodic, well rounded krautrock album with good sound and some good melodies. The four minutes long second song Mary, Mary so Contrary is a good example on that. The other three songs are good too, but more in the traditional krautrock vein with repetetive melody lines and kind of improvisations on the top of them.
As a debut album, this is a good album which really has made me more interested in Can. So, John Peel has been proven right some years after his tragic passing. Can is most definate worthy our attention. I salute you, John Peel.
3 points