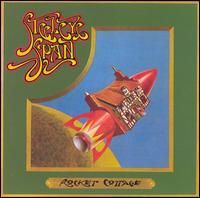 The ninth album from this English band.
The band was still a six piece band with the vocals of Maddy Prior and Tim Hart the soul and heart in the band. They are backed up by violins, guitars, mandolins, banjo, bass, tabor and drums.
I have reviewed their first eight albums and have found a great band who sometimes also comes up with some great songs and albums. They is among the best folk rock acts this planet has ever spawned.
Maddy Prior and Tim Hart's vocals is both superb. The band also does their best.
Rocket Cottage sees the band move more towards mainstream rock again. Their sound and music is punchier and harder. There are still some folk music elements here. But even they have a much more punchier and a lot more world music and funkier sound and melody.
There is even some disco music rhythm patterns here in addition to the slightly funky music. The band is pushing the boat out here.
The band is kicking in all direction on the final half of this forty-one minutes long album. The band is trying out different styles and sounds.
Even the violins are pretty funky and playing with modern rock here.
Rocket Cottage is as the title says, not a safe voyage. It is the band trying to come up with something new. I get the feeling that the band was growing a bit restless here and wanted to push the envelope. Hence this album.
This is by all means a good album. But I feel that the band was running a bit empty on this album. A weak three, three minus award is fitting here.
3 points