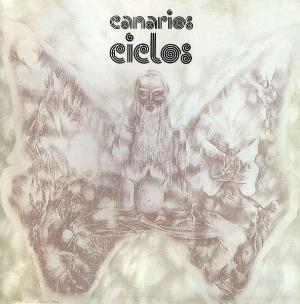 The third and final album from this Spanish band.
I have yet to hear the first two albums from this band. Their debut album was released back in 1968, the second one in 1970 and this album was released in 1974. I have no idea what they sounded like.
Ciclos was recorded as a seven piece orchestra with lots of keyboards, synths, chorals, voices, bass, guitars, drums, percussions and symphony orchestral instruments.
Antoni Vivaldi (1678 -1741) and his Four Seasons symphony gets another good thrashing on this album. This for the numerous time and I am pretty sure our friend Antonio Vivaldi is pretty peeved off by now, there he sits somewhere in afterlife and is glumly watching those musicians who gives his Four Seasons their attention. I am pretty sure he has mixed feelings about his Four Seasons symphony right now.
The copyright laws means everyone can now make their own version of this symphony. A license a lot of bands has taken up and abused over the last fifty years. Some has made something very good out of it. Others has not.
Los Canarios has made their own version of this symphony. These seventy-four minutes is mostly classical music of some sort. But there is also some rock stuff here. This album is not progressive rock at all.
And frankly speaking, Ciclos is like giving The Four Seasons a solid beating up. Nothing here really works and this album is a disjointed effort I find impossible listening to from the first to last second. It is an abysmal album by all standards. It is indeed a turkey. One I am very happy to send over to my turkey yard, later to be enjoyed at the Christmas table.
1 point