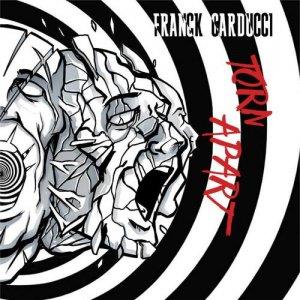 The second album from this Dutch artist.
Franck Carducci is back again with the follow up to the Oddity debut album.
He is doing the vocals, rhythm guitars and mellotron himself. A host of other musicians helps him out on other instruments. Steve Hackett shows up on track # 2 on lead guitars.
I have now learnt that Franck is French and has relocated to Holland. Just to correct myself......
Torn Apart is an hour of original songs plus a cover of Supertramp's School. That he has done a cover of Supertramp is not typical for the rest of the album. Most of the music is in the classic prog and hard rock school from the 1970s. It is indeed a retro-rock album. The Supertramp cover sounds a bit strange to me. But it is a good cover version so why not... I have no complaints.
Retro-rock is fine for me. It has a good sound although most of the album is too hard rocking for my taste.
There is no really great songs here among the original material. There is some glimpses of what Franck Carducci is able to do in a very inspired moment. But that is all.
Nevertheless, this is a good album which should please everyone into a bit harder prog rock.
3 points