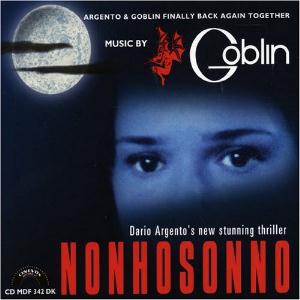 The twentieth album from this Italian combo.
Goblin was a quartet again with all the most important Goblin members featuring. The lineup is guitars, bass, drums and lots of synths and keyboards.
This is the soundtrack for
this film
. The description of the film sounded so interesting that I have just bought the DVD.
The soundtrack is instrumental throughout too, with the exception of some wordless soprano vocals. Vocals which adds a lot to this soundtrack.
Being a soundtrack, this is based on the movie itself. It is a thriller and horror movie. A movie I very much look forward to watch.
Based on the soundtrack, I am not in for a too scary movie. The music is pretty much in the Camel area of symphonic prog. It also has a lot of neo-classical music. It is not that complicated either. We are not talking about music in the vein of Yes.
The melodies here are good throughout. We are not talking a masterpiece here. It it is nicely ticking over with some nice guitar solos and synths. A piano and a saxophone also chimes in.
Non Ho Sonno is one of the better Goblin albums out there and well worth checking out. It is music I find relaxing and nice on the ear and brain. It is stressfree music with a lot of substance as the music here is really good. Check it out.
3 points