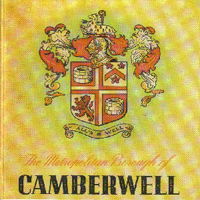 The box-set from this English band who compiles the '12 and the album this band released.
I first thought this was a studio album so I started to listen to it. I never ever review box sets and compilations. But as I was already forming an opinion, I made an exception from this rule.
The Camberwell Now only released one album, the 1986 album The Ghost Trade. They left a big impression though and is an often used reference source when people are referring to avant-garde music.
The band was only a trio with Charles Hayward as the leading member. He did all the vocals here. Other instruments used was tapes, piccolo, ukulele, mandolin, bass, guitars, saxophones, voices, synths, drums and keyboards.
Punk is clearly an inspiration source here. So is avant-garde and krautrock. This seventy-four minutes long box set is a marriage of these three genres.
Charles Hayward's vocals is haunting, to say at least. The minimalism here is also haunting. It also creates a lot of moods and ambience. An ambience of hopeless excistense. Most of their music was a reaction to Margaret Thatcher's England.
This being a box, there is a pretty wide variety of music here. But all of it is within the krautrock avant-garde punk scope.
It is not the type of music I normally like. But the hype around this band is justified as it is based on quality and an unique form of music. I cannot remember ever hearing anything as "out there" as their music.
The quality is also good throughout this box. It is a box with some very good songs (the opening song Cutty Sark) and some less good songs. But the overall quality is good. Check it out.
3 points