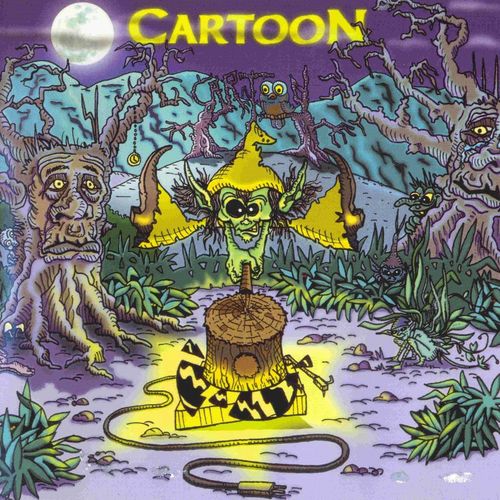 The debut album from this Brazilian band.
Cartoon was a four piece band with some funny names and a lineup of piano, flute, guitars, synths, drums, bass and Portuguese vocals.
I reviewed their third album, the 2008 album Estribo back in July 2013. An album I quite liked. I will get onto their second album/a review of their second album can be found somewhere else in this blog. The band released four studio albums before they split up.
The cover artwork and the band name says a lot about the music we get here on this sixty-five minutes long album. The music is cartoon'ish and quite humerous. I don't think the band took themselves so very serious. The music though is serious.
The music is based on the 1970s funk, soul and hard rock sound. A lot of Zappa can be heard throughout this album. The music also has this vaudeville theatre feel too. There is also some Brazilian folk rock on this album.
A lot of things are happening here. The music is both wild and a bit lounge jazz. It goes from one extreme to another. From the almost punk like music to jazz. From folk to hard rock.
There is no real good songs here and I am really struggling to find anything good here. But there are good things inbetween some rather decent stuff. The verdict is somewhere between decent and good. But good enough to recommend it. Youtube should be the place to listen to this stuff before you purchase this album.
2.5 points