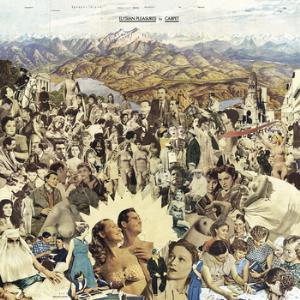 The second and so far the latest album from this German band.
Or maybe musical collective is the right words here about Carpet. The 2009 debut album The Eye Is The Heart Monitor was a solo album from Maximilian Stephen who recorded the album together with Jacob Mader.
Carpet sounds like a full project with a big sound on Elysian Pleasure though. You get everything from guitars, synths, vocals, bass, drums to woodwinds and strings.
This is indeed an ambitious project, this album. But it is neither a rock opera or a piece of symphonic prog.
It has it's roots in the psychedelic prog scene. The roots has given growth to a piece of eclectic music.
The vocals is downtuned, but still melodic. The sound has got a distinctive post-rock ambience. The music are sometimes leaning towards King Crimson. In particular at the end of this fifty minutes long album.
The opening song, the title track, has a captivating eclectic melody and a sting in it's tale. It is a very good song. The rest of the album is not that very good. The end of this album is not particular interesting unless you are a die-hard King Crimson fan. But most of this album is indeed good to very good.
This is a bit of a fascinating album from a band/project which deserve a lot more attention. Attention hereby given.
3 points