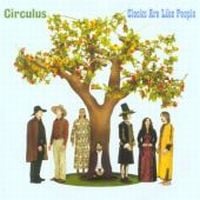 The second album from this English band.
Circulus is a seven piece big band with a lineup of bongos, percussions, crumhorn, flutes, sequencers, synths, Moog, bass, drums, guitars, saxophone and vocals. The vocals are both male and female.
I have yet to hear and get their 2005 debut album The Lick On The Tip Of An Envelope Yet To Be Sent. An impossible long and weird album title. An album title which to a large extent perfectly describes this band.
We are back in folk rock land again. Or prog folk as
ProgArchives labels this band
. A label I totally agrees with. That lumps them together with the likes of Steeleye Span and Fairport Convention.
Which is both fair and unfair. Mostly unfair. Circulus does not have the ethereal great vocals Maddy Prior and Sandy Denny gave those two other bands. For Circulus, this is not a loss because (their vocalist) Lo Polidoro and Circulus has taken a different path than Steeleye Span and Fairport Convention.
Clocks Are Like People are a very contemporary album rooted in the acid folk rock scene. There is also a lot of psychedelia here too. The songs and music here is a bit weird. The sound is great and the vocals is exactly doing what they should be doing in music like this. They are not dominating this album although they are everywhere.
The Moog and the flutes gives this album an edge. The songs are not particular great. But the forty odd minutes long album is very agreeable and has some very interesting details.
This is indeed a good album and I have ordered their two other albums. This band and their music requires some further investigations.
3 points