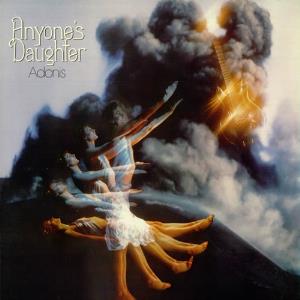 The debut album from this German band.
The band was a quartet with a lineup of guitars, bass, drums, organ, MiniMoog, keyboards, piano and English vocals. Vocals very similar to Eloy's vocals.
I reviewed their third album Piktor's Verwandlungen for ProgArchives back in
November 2011
. An album I really liked. I think I need to get the two other highly rated Anyone's Daughter albums too.
Anyone's Daughter were a band who released eight albums between 1979 and 2004. There were a fifteen minutes long break between their sixth and their seventh album. Their 1980s albums is said to be good albums.
Adonis, and indeed the career of this band, starts with the twenty-four long title track. A suite which comes across as a mix of space rock and symphonic prog. Indeed; between Eloy and Camel.
And it is between Eloy and Camel that is where we find most of this album. Very melodic, but still with a bite and a lot of intelligence.
The sound is really great and very much in the Eloy vein. It is the type of warm glowing sound I really like.
Adonis is the best piece of music here. The rest of the album is also really good. A couple of flirtationw with pop music does not impress me. But this album makes me sit up and really smile a lot.
This is not a great album. I am missing a great track or two. Nevertheless, this is a very good album which is converting me to this band. Their others albums is being ordered.
3.5 points