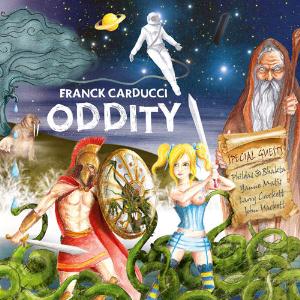 The debut album from this Dutch artist.
Franck Carducci does the bass, keyboards, guitars, mandolin and vocals here. He is helped out by the likes of John Hackett (flutes) and many others on various instruments.
I have been aware of Franck Carducci and his two albums for a long time. Most of my friends rates them very highly. So me too wanted a piece of the action.
Franck Carducci debuted on Hammond organ when he was 5 years old. He comes from a family where music is everything and their whole life. Which is great.
This is also reflected on this album. An album which can be labeled as a symphonic prog album. References are both Genesis and Yes.
This one hour long album includes three long songs/suites, one short song and a very good version of the Genesis classic Carpet Crawlers.
Franck has a good, but slightly naive voice. The music is also upbeat and positive. Enough to make me smile and feel jolly. The music is indeed jolly.
Not everything here is symphonic prog. There is one blues track here which is not really my cup of tea. A folk ballad follows too and that is not met with my approval. The opening suite Achilles is very good, though.
This album is a mixed bag. It is also a good album which deserves a lot of credit and one to check out. Go so forth and do so.
3 points