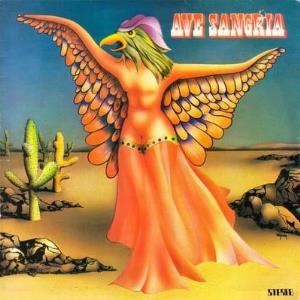 The one and only album from this Brazilian band.
Ave Sangria was a six piece band with a lineup of guitars, synths, keyboards, percussions, drums, bass and Portuguese vocals.
The band was quite a colourful group on stage with a lot of strange clothes and fuzz guitars. A bit psychedelic and glam rocking.
But their music is not really glam rock. It is folk rock of some sort.
Take folk rock, add some of David Bowie's quirky songs, add some vaudeville, rockabilly, jazz and a some psychedelic rock. Also add the colourful culture of Brazil and you get this album. An album full of quirky music.
The vocals is falsetto and normal male vocals. The vocalist Marco Polo (!!) is all over the place. But his vocals is very good. The rest of the band also does a good job.
The quality of this thirty-eight minutes long album is not that good. This album is a curiosity these days. It is still an album well worth checking out if you are a big folk rock fan.
2 points