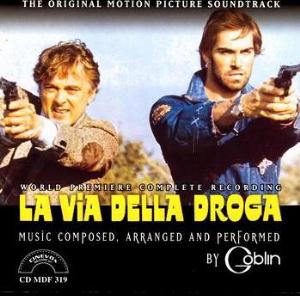 The nineteenth album from this Italian band/constellation.
This is the soundtrack for the Italian police TV series Poliziotteschi. I have yet to find the DVD anywhere..... but I have only been looking in the world of Amazon.
Goblin was a four piece on this album with Fabio Pignatelli (bass), Agostino Marangola (drums, percussion), Massimo Morante (guitars) and Claudio Simonetti on keyboards. From what I understand, the classic Goblin.
Which probably has concentrated their minds.
Goblin soundtracks is so much better in the movies than on CDs/MP3s. This goes for most soundtracks. Goblin has indeed added some turkeys to my collection of turkeys. Not many, but enoug for me to approach another Goblin movie with a lot of angst and trepidations.
So I was pretty pleased after listening to this half an hour long album for the first time. Pleasure which only increased after some more listening sessions.
The band has added some jazz to this movie soundtrack. Jazz as in Gong without Daevid Allen. Their Shamal album springs to mind. But most of this album is cinematic music, ambient and soundbytes like.
The end result is not that bad. It is indeed an album with some good stuff and some decent stuff. Hence my rating.
2.5 points