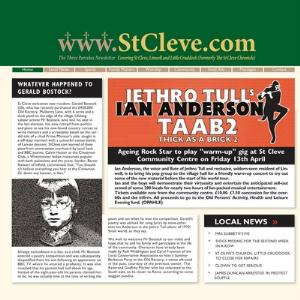 The fifth album from this British artist and icon.
Ian Anderson did the vocals and flutes on this album. He had help from six other musicians who provided woodwinds, drums, bass, guitars, keyboards, Hammond organ, glockenspiel and additional vocals.
Thick As A Brick from 1972 was and still is one of the best ever albums to see the light of day. A true masterpiece. So I was a surprised when I learned that Ian Anderson wanted to release a follow up without the Jethro Tull name and without Martin Barre. The album was released as an Ian Anderson solo album. Odd !!!
And there is certainly a hard act to follow, part 2 of an album most people love.
The music is totally new and nothing has been carried over from the 1972 album Thick As A Brick. That album was an LP too where part 1 took up the whole of side A and part 2 took up the whole of side B. It was basically one piece of music.
Returning to 2012 again and this is not the case with Thick As A Brick 2. This album is almost fifty-four minutes long and it is divided on seventeen songs. The longest one is eight minutes. But there are also a lot of shorte soundbytes between one and two minutes long.
The quality of the music is very good. But there is something seriously missing with all the Ian Anderson albums. And that is the balance between Ian and the other musicians. Ian dominates this album and does not really let it get a breathing space.
Too much sugar can kill you. And that is the case here. Very good songs. But there are also too much of Ian and too much stuff which does not stands up to the high standards set by Jethro Tull's golden age. I still love Ian Anderson and what he does. But with a soberiety which also allow criticism where criticism is well due. As on this album.
3.5 points