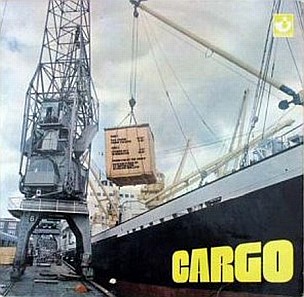 The one and only album from this Dutch band.
Please note that this is the review of the forty-two minutes, five songs long 1972 album and not the seventy-five minutes long CD which includes a lot of bonus tracks and oddities. The CD offers the best value for money so get that one. But this is a review of the 1972 album.
Cargo recorded this album with nine musicians. I don't know the core of this band. But the lineup includes guitars, bass, drums, electric piano and vocals.
Progarchives has labeled
this band as Heavy Prog
and I am in full agreement here. I also cannot fail to notice that the album art-work is much more iconic than the band ever was. It is one of the great art-works from the prog rock scene. One I have been admiring for the last ten years before getting the album myself and then listening to it.
And the album is indeed also interesting. Not iconic though..... Take a lot of guitar based blues, add some psychedelic rock, a lot of British heavy metal, a lot of space rock and a lot of southern rock. There is a lot of Lynyrd Skynyrd here.
This album is also very pastoral at times. Very subtle too. Very cleverly made. And it is very much a 1970s album.
All guitar fans should bring out their air guitars and listen/get going to the final track Summerflair. The rest of us can also enjoy this good song and the four other songs. This album is really a good album with a great sound. There is no great tracks here though.... But enjoy and get the seventy odd minutes long CD !
3 points