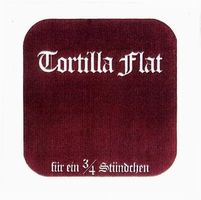 The one and only album from this very obscure German band.
The Canterbury scene was not really popular in Germany where the krautrock movement were king. That and symphonic prog.... and jazz/fusion. But not the sounds and sights from Canterbury, Kent. Tortilla Flat is one of the very few exceptions.
There are some krautrock influences here in the form of the harsh guitars sound. That aside, the music here is Canterbury jazz with flutes, keyboards, glockenspiel, bass, drums and percussions. There are no vocals here at all.
The music is both groovy and full of interesting details. It is also enough avant-garde to give it substance. This is not easy listening airport music. The flutes and the keyboards is the main instruments when it comes to driving the melodies forward.
My main gripe is the lack of any great tracks. That aside, this is a very good album which deserve a proper CD or digital release. If you can find it, give it a try.
3.5 points