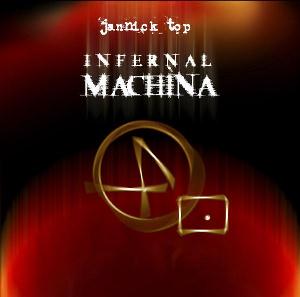 The second album from the legendary Magma bassist from France. A bassist and bass who gave Magma their thunderous bass sound.
Infernal Machine is perhaps the most legendary modern zeuhl album too. It starts with a very slow build up.... almost too painfully slow, before it moves into typical Magma zeuhl territory.
The album is almost more Magma than Magma themselves. The sound and music is somewhere between Present/Univers Zero and Magma. The music here, after the long intro, is dark, claustrophobic and almighty. It takes no prisoners.
The zeuhl here is delivered by bass, drums, vocals, piano and keyboards. The piano is adding a lot of jazz to the darkened repeated rhythms. The dark vocals is also adding darkness to the music.
The end result is almost like a mass. A proper zeuhl mass. This one hour long album is essential in any zeuhl collection and should be filed next to Magma's best albums. It is by all means a great album and one heck of a nice experience for the listener.
4 points