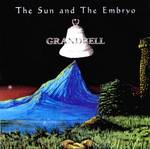 Another band who released one album and then disappeared again without a trace. This time, the band is from Brazil.
Grandbell was a six piece band with guitars, flutes, keyboards, bass, table, drums and English vocals. This album is over seventy minutes long divided on eleven songs.
The music is symphonic prog. The band has fused Yes and Genesis. Which is not terrible original. It is very unoriginal to say at least. The vocals are really good and that is a big plus in my book. Ditto for the sound and the guitars.
Where Grandbell has eked out their identity is their fusion of that fusion with a more Latin - American take on symphonic prog. Well, there is not an awful lot of Latin - American prog here. But still enough to give them a bit of an identity.
The end result is a decent to good album which has some good ideas and is a nice listen. I would say this is a weak good album award. The good things here outweighs the bad things. Check it out if this sounds interesting.
3 points