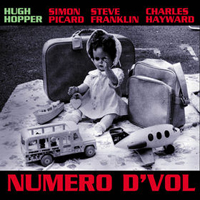 The eleventh album from this late, still highly revered bassist. An icon from the likes of Soft Machine.
I have to admit I am no great fan of his solo albums. Too avant-garde even for the likes of me who actually likes avant-garde music. Hugh Hopper's albums is a bit too much for me.
He has returned with a four man band on this album. Himself on bass, Charles Hayward on drums, Steve Franklin on keyboards and the star here, Simon Picard on saxophone. This album is focused on his saxophone and various ways of playing it. The music falls into the avant-garde jazz category. Easily so, I would say.
There are some pretty melodic pieces here and some very avant-garde meandering pieces here. There is no real drive here and no real melodies either. I am OK with the lack of melodies, but I am missing the drive and the substance in this avant-garde stuff. The material is very dark too and almost paranoid in it's mood.
The end result is a decent album which does not do much for me. I am not a hardcore jazz fan and this album is one bridge too far for me.
2 points