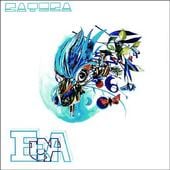 The one and only album from this band from Sicily, Italy. Actually, the band and the same lineup released other albums under the Flea name.
Etna is the big volcano in Sicily who is still very much rumbling along and is threatening to explode again and bury at least one major city on Sicily. Just like Vesuv did on the Italian mainland 2000 years ago. It buried Pompeii in lava and rocks. Not nice......
Etna the band was a more friendly entity altogether. We are talking fusion here. Fusion with clarinet, bass, drums, percussion, keyboards, guitars and mandolin. And we are not in Mahavishnu territory either. The music on this album has a lot in common with Arti E Mestieri and to a lesser degree; Area. I would also compare them to Soft Machine to a lesser degree too.
There is not that much fusion here either. This forty minutes long album is leaning a lot more towards jazz than fusion. The tempo is mid tempo and the jazz/fusion is not particular intense. It leaves the mandolin and the other instruments a lot of air to breathe in. Both the guitars and the keyboards is doing the leads here, helped by the clarinet and the mandolin. The mandolin sound is odd, but it also adds a lot of extra quality and life to this album.
The result is a very elegant and a very good album whose only flaw is the lack of a great track or two. Besides of that, this is one of the better Italian jazz/fusion albums I have heard and you can safely add it to your collection.
3.5 points