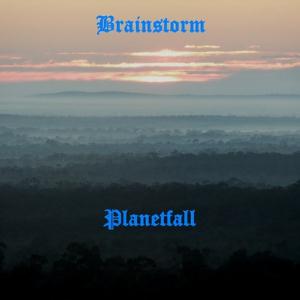 The fifth and most resent album from this Australian band. A band not to be confused with that German jazz/blues band and the many heavy-metal bands with the same name.
Brainstorm has kept it going for over 20 years without really gaining much attention here in Europe. I got this album by chance and did not take much notice of it before I decided to give it a chance.
It is a bit pity that this album and band is so neglected. Brainstorm's mix of 1960s psychedelic rock and 1970s space rock is quite a treat for anyone into this kind of music. There is a lot of us who would really appreciate what Brainstorm are doing... if we knew about them.
Planetfall is seventy-eight minutes album with largely this type of music. Great value for money, in other words. The music is created with keyboards, Hammond organs, guitars, flutes, percussions, bass and drums. That and some David Bowie like vocals. The vocals are more like one of the instruments than proper vocals. They fit the music very well.
The music here is melodic and not that spaced out. They are more hogging the planet earth than going on long space exploration projects. It is still spaced out enough to attract the space rock fans.
Planetfall is a good album who is perhaps a bit too long and is lacking a killer track or two. That aside, this band and this album deserves a bit more attention. The band should be proud of this album.
3 points