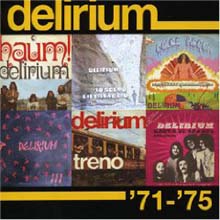 This is a collection of the first three Delirium albums + the many singles this Italian band released from 1971 to 1975.
Delirium released three very good and poppy Italian progressive rock albums during that period. They had at least one megahit and several smaller hits with their singles. All of them are included here.
This is therefore an essential collection, a 2 CDs collection, if you are into this band. I am not particular fond of this band as they have really never gelled with me. I am in a minority here, I have noticed.
This is a good 2 CDs collection and that is all.
3 points