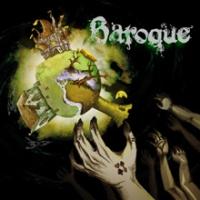 The first album from this Italian band who so far has released two albums.
The band title says a lot about this band and this album in particular. It is like Wolfgang Amadeus Mozart had been reincarnated. This is off course an Italian progressive rock album, but with a pretty large twist.
Forget ELP here. Remember Le Orme, though. There are some Le Orme here. But most of all; there is a lot of cabaret, theatre and opera throughout this fifty minutes long album. There has been some Italian band going down this alley throughout the last fifty years. Baroque can and should be added to this list. Add some folk rock, Italian rock and some symph prog to this mix too and you get this album.
The Italian vocals are very good. They has been laid on the top of keyboards, piano, guitars, bass and drums. The whole album is pretty intriguing and interesting. Unfortunate, without really offering up some great tracks. That is my only gripe with this album. The lack of any really great tracks.
This is very much a good album and just that. As a debut album, this is more than an acceptable album.
3 points