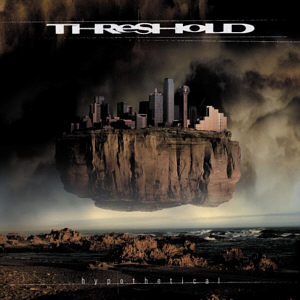 The fifth album from this British band.
Threshold has shown good progress during their previous albums and has by now established their sound and music. Sound and music they are pretty alone with. They are indeed their own country.
Their setup as a six piece band is also stable. Andrew McDermott is still their vocalist and he is helped out by guitars, drums, bass and keyboards. He also helps himself with multi-layered vocals.
The vocal harmonies is very much noticed here, yes. The same goes for the, at times, very heavy guitars and the guitar-walls.
Threshold has always occupied their own plot of land somewhere between neo-prog and progressive metal. The same goes for this album too. This time, their sound is also very epic. More epic than heavy. Sometimes, epic and heavy get confused.
This album is very epic and melodic. Very melodic too. It also has some cracking good songs too. There are some great songs here too. The Ravages Of Time, which also gave the name to a best-off Threshold compilation album in 2007, is perhaps the best song here.
The songs are pretty long too on this one hour long album. Long and epic. Not everything here is great. But this is nevertheless a very good album and one I recommend.
3.5 points