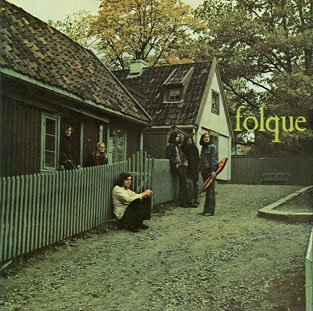 The debut album from this Norwegian band.
Folque was a six piece band with a lineup of dulcimer, fiddles, flutes, bass, piano, banjo, mandolin, guitars and vocals. Both female and male vocals. But mostly female vocals. The vocals are in Norwegian. Traditional old Norwegian, that is.
Folque was and still is a legendary folk-rock band. They released eight albums and I believe a version of the band is still doing the occasional gigs under the Folque name.
The band was more a folk music combo on this album with a lot of traditional Norwegian folk music. Which is not my cup of tea, in fact. It is too primitive for my liking.
This album comes complete with a very good song, though. Alison Gross is the name of this song and it is actually a pretty long and developed song with a very good arrangement. I am won over..... almost.
I have some issues with these female vocals which is too overpowering. I had the same issue on the reviews of the two follow up albums to this one. Reviews you will find in ProgArchives. Many years later, I still got these issues on this album.
Nevertheless, this is a decent to good album. It is also the best Folque album I have ever come across.
2.5 points