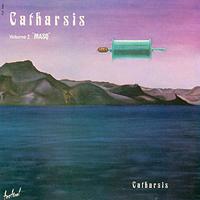 The debut album from this French band.
Catharis went on to releasing six albums altogether. I am reviewing all off them/I have reviewed all of them for this blog.
Roland Boqcuet and his farfisa organ was the main man and signature sound in this band. He got help from six others here. The lineup was guitars, bass, drums, percussions, keyboards, organs, male vocals, female vocals and numerous other instruments.
The high number of instruments does not mean we are here in the middle of some great orchestral music. Far from it. The music here reminds me a lot about Amon Duul. And I don't mean Amon Duul II. I mean the first incarnation of Amon Duul.
The music is simple, improvised hippie krautrock in other words. Thankfully, this album is only half an hour long.
Most of the music is simple and improvised. There is some structured music too here and there seems to be some brain and visions behind this album. But the result is still a poor album. Half a point for some music here which seems to be a bit rehearsed and meaningful. Nevertheless, you can safely bypass this album.
1.5 points