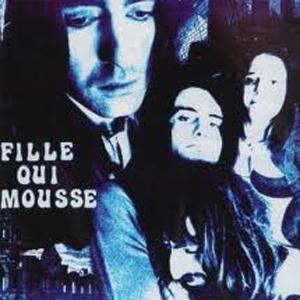 The one and only album from this French band.
Fille Qui Mousse, who also called themselves Trixie Stapleton 291, was an eight piece big band who released their only album on a very obscure record label. It was picked up and re-released in 1989 on CD. Rightfully so, too.
Their lineup was guitars, bass, percussions, piano, violin and effects.
The band is listed as a krautrock band. Hence, that got my full attention and I got this album. Krautrock is one of my favourite genres.
It has to be said that krautrock is a very wide genre who includes mostly everything weirdly sounding music. This band is on the very weird avant-garde end of this spectrum.
I guess the recording budget was minimal. It sounds like that. Most of the stuff here sounds improvised and made on the hoof.
This thirty-five minutes long album starts with a proper psychedelic krautrock piece. It goes over to a diddly-dei avant-garde piece where sound effects is being tried out just to get the minutes going. Then we are back into krautrock territory again.
The two krautrock pieces are good. I like avant-garde a lot. But the avant-garde pieces here are really bad and lacks any imaginations. So the law of average tells me this is a decent album. Check it out if you want.
2 points