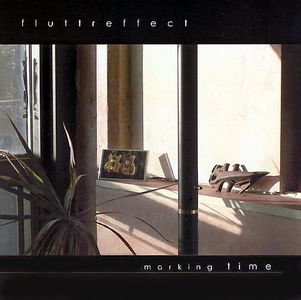 The second and so far latest album from this US band.
The band was a five piece band with a lineup of cello, guitars, marimba, synths, drums, bass and female vocals.
The band's debut album Trithemis Festiva from 2004 was a good modern eclectic prog album. The band is following up that album with a pretty much similar sounding album.
Similar sounding as in the same vein. They have not copied their debut album. But they have stucked to the formula that worked very well on Trithemis Festiva.
Some pretty busy rhythmic songs with a very buys and passionate vocals on the top. Very good vocals too. The vocalist is Kara Trott.
The music is heavy at times. But it is still very much forward looking progressive. The album also has good melodies throughout.
I have to admit I am much more into more melodic music than the busy, staccato forte music Fluttr Effect is giving us here. All the sixty minutes of this album. Nevertheless, this is a good album which should appeal to anyone who want to check out what modern progressive rock sounds like. Fans of King Crimson should also check out this album. A good album it is.
3 points