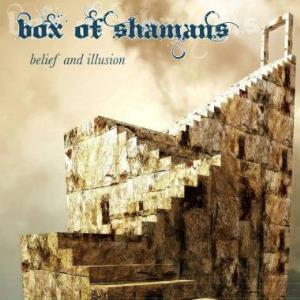 The debut album from this US band.
The band is basically the US band Heliopolis. Two of the members in this trio also moonlights in bands like Mars Hollow and Rocket Scientists.
This trio creates the music here with guitars, bass, drums, keyboards and vocals.
Box Of Shamans was set up to do some cinematic and rhythmic prog rock. Modern progressive rock, this is. ProgArchives has listed them in the Symphonic Prog genre. I do not agree. The music here is very eclectic. Very eclectic indeed.
Take some of Yes more eclectic moments, add some Gentle Giant, some King Crimson, some Rush and add a lot of modern rhythms orientated progressive rock. Then you end up with this album. A forty odd minutes long album.
I am not a big fan of this modern prog rock movement in USA. But I don't deny that this album has both class and quality. This is progressive rock anno 2015.
Inbetween the power trio heavy stuff, there is also some very good melodic stuff. The album is also full of interesting details.
In short; this is a very good album which everyone should check out. I like what I hear.
3.5 points