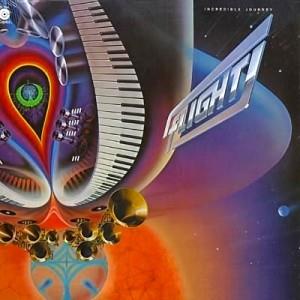 The second album from this US band.
Flight was a five piece band with a lineup of guitars, bass, drums, keyboards, trumpet and vocals.
The logo and the artwork is a bit of a giveaway. Sort of....
Take a big chunk of ELP and add a lot of commercial, slick fusion/jazz. Mostly fusion. Then you get most of this album.
ELP had some really lackluster music in addition to all the interesting, great music. Take the worst of ELP and you get the ELP references here. USA also had and still have a great movie and TV series soundtrack scene. In particular those crime and thriller TV series. Take a big chunk of those too and you get this album.
Everything here is very slick and very schmoozing corporative. Everything very sugary.
There are some interesting stuff here too. A lot of interesting stuff too. But it is getting snuffed out by an almost theatre & stage drama sounding songs. Most of that makes me cringe.
The end result is barely a decent album. It is a decent album, but it does not give me any appetite for their two other albums. I think there is a good reason why this band is so obscure.
2 points