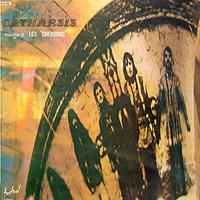 The second album from this French band.
Their 1971 debut album Masq was very far from being an impressive album. So something had to be done...
The band was a sextet on their debut album. The band owner Roland Bocquet slimmed down the band to a quartet with a lineup of organs, keyboards, drums, percussion, bass, guitars and vocals.
The band continued with the same personel and lineup on their remaining five albums.
Where Masq was dark and brooding, Les Chevrons is much more light and uplifting. It still has a small sinister streak. But it is a lot of power and life here. The music is really dynamic too.
There are some sporadic vocals here. But most of the music is instrumental though.
The music can best be labeled as ELP going psychedelic. Add Eloy and Santana here too and you get the picture. There is also a lot of classical music influences here. Not to mention krautrock.
In short; this is a heady mix of keyboards and rhythms.
Most of the music is dominated by Roland Bocquet's keyboards. He creates a lot of vibes, interesting details and dynamics throughout this half an hour long album.
The end result is a good album which should appeal to everyone into krautrock, psychedelic prog and symphonic prog. Catharsis is one special band and well worth checking out.
3 points