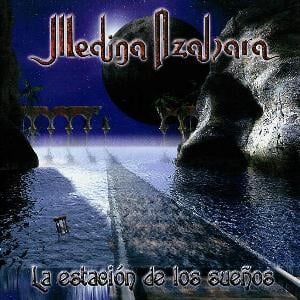 The thirteenth album from this Spanish band.
Medina Azahara is an icon and an institution in Spain and rightly so. They have been going on since the 1970s.
They were a four piece band on this album with keyboards, guitars, bass, drums and Spanish vocals. Some very typical heavy metal vocals. The band is also helped out by some flamenco guitars too.
The quality of their musical outputs has been....... ehh...... not overwhelming good since their debut album. A couple of albums has been good though and I have a soft spot for this band. The vocals are memorable and I like the Spanish and flamenco stuff in their music.
Music which on this album is not as heavy metal as on their other previous albums. Their 1990s albums for example. The band is keeping an eye on the trends and has found out that some more mellow music, still with red-hot passionate vocals, is what people want in 2005.
The result is one of their better albums. No, it is not a good album. It is still full of cliches and some of the stuff makes me cringe. Actually, a lot of their stuff makes me cringe. But there is also some more quality on this album. This is not a bad album at all.
2 points