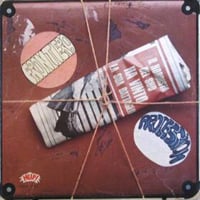 The debut album from this Italian band.
Procession released altogether three albums between 1972 and 2007. Their most relevant albums was their debut album and the 1974 album Fiaba.
The band was a five piece band with a lineup of mouth harp, mandolin, guitars, bass, drums and Italian vocals.
It would perhaps not come as a surprise to you if I include this band and album in the Rock Progressive Italiano - RPI - genre. It has all it's hallmarks.
The RPI genre includes a lot of sub-genres and musical/artistic expressions. In the case of this album, we are in the more heavier end of the spectrum. There is a lot of hard rock on this album. An album with not a particular good sound.
The mandolin adds a lot of folk rock and Italian feel to this album too inbetween the hard rocking wild stuff. There is some mature songs too. But the sound and the more wilder stuff is a bit annoying and I am not able to see past it.
This is a decent enough album. A decent to good album because of the more folky stuff. I will explore more stuff from this band.
2.5 points