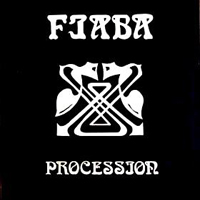 The second album from this Italian band.
This was their last album before the band took a 33 years long break. Their third and final album was released in 2007.
The band was a four piece on this album with a lineup of saxophone, guitars, flute, bass, drums and Italian vocals.
The band was very heavy rocking on their 1972 debut album Frontiers. But that album also had it's pastoral, folky moments. The band decided to dump the more heavy rocking stuff and go folky and pastoral on Fiaba. A very wise choice in my opinion.
The music is still dynamic and lively on this album. Gianfranco Gaza does a very good job on the vocals and the flutes is also very good.
The song material is lacking a bit in quality. But the sound and the folky ambience is making this album a bit of a joyful experience.
Not everything is good on this thirty-five minutes long album. Nevertheless, this album is a good album and one I would recommend to anyone into Italian progressive rock. It is maybe not that progressive. But it is a good album, neverthelss.
3 points