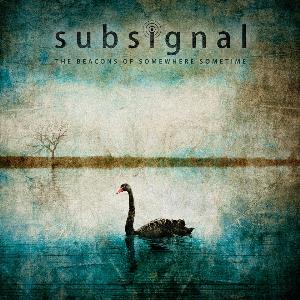 The fourth album from this German band.
Subsignal is a splinter group of Sieges Even and has grown to become a well respected, popular band. And that with good reasons.
The band is a five piece now with a lineup of guitars, bass, drums, keyboards, piano and vocals. English vocals, that is.
The band positioned themselves somewhere between neo-prog and power metal on their previous albums. This is still where they mainly are on this album. A seventy minutes long album. But there are some changes.....
The band uses a lot of vocal harmonies on this album. Vocal harmonies which reminds me about Yes. And yes, they have moved a lot towards Yes and their latest albums. I am not a big fan of the new Yes albums so this is not good news for me.
Some of the vocal harmonies and melodies are pretty sloppy commercial and easy on the ear. Some of them are pretty annoying too. But the band has thankfully also included a lot of very interesting technical, progressive melodies and details.
But my main impression is that the band has moved a bit away from progressive rock and is seeking, perhaps, greener grass in the more mainstream rock and metal scene.
While weighing up the pros and cons, I have come to the opinion that this is a good album. But these musicians can do a lot better albums like this one. Hence, I am not impressed with this album.
3 points