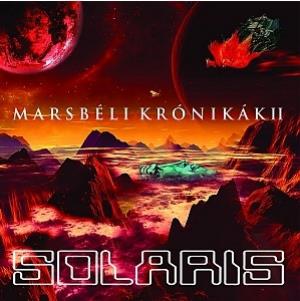 The fourth studio album from these Hungarian legends.
Legends they are, but I have never really been a fan of their albums. The band is now down to a six piece band with a lineup of flutes, guitars, keyboards, drums, bass and the occasional vocals.
This album is part 2 is supposed to be the follow up to their 1984 debut album Marsbeli Kronikak. The music is brand new as far as I know. Hence, this is not 30 years old music.
The music is in the same vein as their three other studio albums...... with a bit of a change. In short; instrumental symphonic prog.
The band is now much more leaning towards Pink Floyd in their use of wailing female vocals. They are not dominating on this album. They are just on of the tricks used here. Other influences here are again the likes of Camel. The flutes also adds a lot of folk music elements here. The guitar solos adds again a bit of Pink Floyd. The violins reminds me about Hungarian folk music.
The music is good, but it is still lacking the xtra melodic greatness and the details that makes a great album. In this case, a forty-five minutes album. I am yet to be won over by this band.
3 points