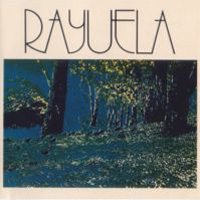 The one and only album from this Argentine band.
Rayuela was a five piece band with a lineup of bass, drums, saxophone, flute, keyboards, guitars and Spanish vocals. Which is a pretty usual South-American lineup from those years.
The music is a mix of rock and jazz. Yes, that is called fusion. But in fusion, jazz and rock merges. On this forty minutes long album, jazz and rock is more separated.
Some tracks here are jazzy. That means commercial jazzy. Not avant-garde or overly complicated eclectic jazz. The rock stuff, make that pop at some tracks, has a fine funky rhythm and flavour to them.
The music is decent to good throughout. It is on the more light and fluffy part of the spectrum. It is very much a cosy album, nice for a frosty night like this one. The vocals is also very warm and makes this an even more cosy album. Check it out although I got my reservations.
2.5 points