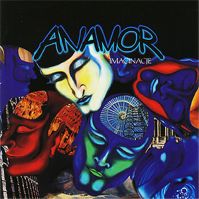 The one and only album from this Polish band.
Anamor was a six piece big band with a lineup of guitars, bass, drums, keyboards and female vocals. Polish vocals. Jacek Zasada from Quidam contributes with flutes as a guest musician.
The music on this one hour long album is neo-prog. Neo-prog with a lot of art-rock influences and some folk-rock influences. Add some symph prog influences too. The sound is good and the band knows what they are doing.
There is a strong presence of guitars here. In particular a 12 strings guitar. That sets them a bit a part from the rest of the scene. There are the usual cascades of keyboards, piano and guitar solos here. The nine songs are not particular long.
Marta Glowacka's vocals are very good at times. She was a good choice and I hope she is still around in the music business. I also very much like the ambience here.
Although the music is very cosy and nice, it is never really great. I am a bit unsure how to score this album on my awards ladder. But it is a good album which will find a lot more favour among bigger fans of melodic neo-prog than myself. Check it out as it is a good album.
3 points