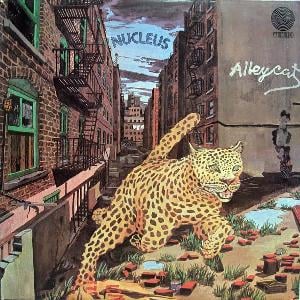 The tenth album from this British band.
The band had again evolved and was now a seven piece band with a lineup of guitars, bass, saxophone, horn, drums, percussions, trumpet and keyboards.
The band had moved on from their early start as a Soft Machine like band. The band now both included woodwinds and guitar solos. Ian Carr was still at the helm and he still sounded like Miles Davis. Ken Shaw's guitar solos was pretty impressive too.
Alley Cat is as charming and playful as a cat.... an alley cat, in fact. Although I would more compare it to a smaller cat, a moggy, than the cat on the artwork. You get my drift.
The music on this forty minutes long album is good enough. I feel that Ian Carr is perhaps running on old fumes here and there is not much developments around. Nevertheless; this is a good album from a band which is starting to show it's old age.
3 points