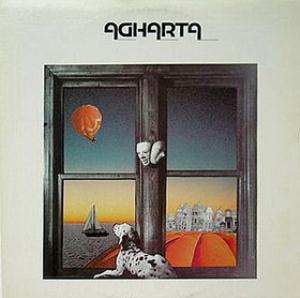 The one and only album from this Canadian band.
Agharta was a five piece band with a lineup of drums, percussions, keyboards, bass and woodwinds. And yes, there is no vocals on this thirty-eight minutes long album.
Canada had a great jazz and fusion scene back in those days. It was based around Quebec and has rightly been labeled as the Quebec scene. I love that scene and bands like Malibran.
That sound was based on a mix of jazz, prog and folk. Aghast is not among the bands who had that sound. Instead, the band's sound is very similar to Weather Report's own sound.
Aghast music is heavy dominated by great keyboards and saxophone duels. It is like hearing Shorter and Zawinul again. The concept is the same and the music is at times riveting.
Aghast is not copying Weather Report as they have their own take on jazz. They are far more keyboards orientated than Weather Report. There are also drums solos here. And their music is not as good either. But this is an enjoyable album who only comes up a bit short on the song writing skills.
Nevertheless; this is a good album well worth checking out.
3 points