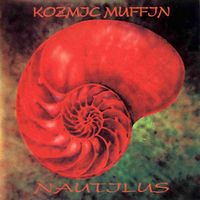 The debut album from this Spanish band.
Nautilus was the first of in total two albums from this band. Their second album was released in 1997 and named A Space Between Grief And Comfort.
Kozmic Muffin was a no less than a seven members big band. Their lineup was drums, Hammond organ, bass, guitars and vocals. English vocals.
The music is psychedelic space rock. There are some long guitar solos here and a lot of thumping Hammond organs. This album is forty-seven minutes long and contains six more or less spacy tracks.
The music is a mix if Pink Floyd'ish space rock, a bit more melodic psychedelic rock and some pretty hard and heavy space rock workouts. All of this competently played.
There is no real great pieces of music here and that is my main gripe with this album. It is a good album and just that. Check it out.
3 points