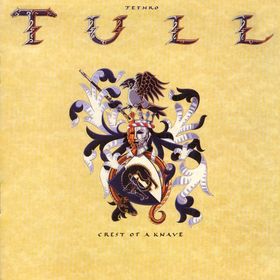 The seventheenth album from this British band.
This album will forever be remembered as the album who won the first ever hard rock Grammy. A Grammy Metallica's excellent Justice For All album should have won. To everyone's dismay, this Jethro Tull album won it. Noone from the band was present that night and it ended up as a scandal.
I have no idea why this album and this trio version (Barre, Pegg and Anderson) of Jethro Tull was regarded as hard rock. It is a total mystery as this album is anything but hard rock.
What we get here is almost an hour of country and folk rock inspired pop-rock. The songs are pretty standard with some flutes, Ian's vocals, some good guitars, bass, drums and some very nasty synths involved.
The music here is pretty bad though and not worthy of a Jethro Tull album. I can feel the Jethro Tull DNA just wanting to burst out. But it is being kept under lock and key throughout. This is a decent album and just that. And it did not deserve a Grammy.
2 points