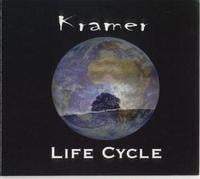 The one and only album from this Dutch band.
Kramer was a four piece band with the usual keyboards, guitars, bass, drums and English vocals lineup.
And yes, this is neo-prog. Sort of.
The music is very melodic and at times a bit sickly sweet. There are some strings like keyboards sounds and angelic moods now and then. The vocals is very elegant and restrained. The guitars are not going totally overboard in their guitar solos. The keyboards is very good.
The music is laid-back and mid-tempo. This is not prog metal influenced neo-prog.
The music is good throughout these sixty minutes this one last. It is a bit too middle of the road neo-prog. Nevertheless, this album is recommended to everyone into neo-prog.
3 points