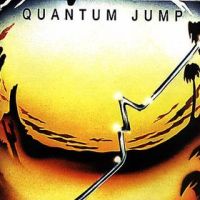 The first of in total two albums from this British band.
The band is most knows as where the famous producer and solo artist Rupert Hine cut his teeth. OK, had released some albums before forming Quantum Jump together with Mark Warner (guitars, vocals), Trevor Morais (drums) and John Perry (bass). Rupert Hine did all the keyboards and lead vocals here.
The end result is this thirty-seven minutes long album. An album which it is not easy to label. ProgArchives has gone with the Canterbury prog label. It is not a bad label and it is not only because John Perry also played in Caravan at that time.
The music is pretty Canterbury style polished here. The music though is a bit Caribeen like jazz and fusion. Add a lot of funk and some mad English pop too.
The end result is a pretty mad and strange album. It is very melodic though. It is also very jazzy. It is pretty obvious Kevin Ayers has been an influence here.
The end result is a good album though and one well worth checking out. Something you should do. The jazzy guitars and keyboards is the best thing here while I have my reservations against some of the overtly pop music themes and melodies here. But check it out.
3 points