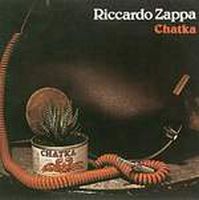 The second album from this Italian guitarist.
Riccardo Zappa is regarded as one of the finest acoustic guitarists of his generation. He debuted in 1977 with the Celestation album. An album which was mostly about him and his guitar.
On Chatka, he has at least got help from dums, bass and keyboards. He has even come up with some melodies on this thirty-five minutes long album.
Although there are some melodies here which may appeal to others than hard-core acoustic guitar fans, most of this album is all about Riccardo Zappa and his acoustic guitars. And that is it, really.
The music is somewhere in the folk music area. They are somewhat progressive too. They are also pretty simplistic where the acoustic guitar is king and is left to shine. Riccardo Zappa is a superb guitarist and that is what saves this album.
If you don't love, really love acoustic guitars, you can safely bypass this album. A pretty decent album, nevertheless. A weak decent rating has been awarded.
2 points