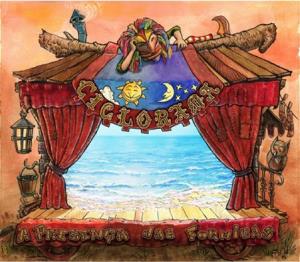 The debut album from this Portuguese band.
To name everyone or even count every musician who has contributed to this album will take a long, long time. The band is acoustic and uses every acoustic instrument you can think off.
And yes, this is folk rock. Folk rock with some great female vocals too. But it is not strictly folk music what we get here. Take some pretty big influences from the likes of Gentle Giant and fuse that with the likes of Gryphon, Pentancle and Flairck. That is when you get this band.
This band with the very long name is singing in Portuguese and the music is very much local and a reflection of Portugal. Nevertheless; you will also find some English eclectic prog here too.
This album is too folky for my liking. I very much like the violins and flutes here. Ditto for the vocals. The songs are not that interesting though. This makes it a good album in my books. The band clearly has a future and I am looking forward to listen to their second album.
3 points