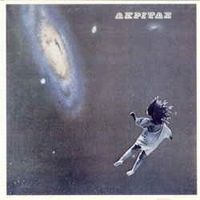 The one and only album from this Greece based band.
The band lived in the shadows of Aphrodites Child and got a modest success with this album. They were a three piece band with a guitarist as a guest musician. The linup was keyboards, bass, drums and some very good vocals. The vocals was in their mother-tongue.
The lack off success is most due to the complex music they dished up with on this half an hour long album. Very complex music in fact and not easy to understand. The music is clearly eclectic prog with a lot of influences from both jazz, folk and avant-garde.
The vocals and a lot of the music here reminds me about Area. Which is the best comparison I can find. But Akritas took avant-garde a step further than Area did. Despite of the eclectic nature of the music, there are still a couple of tender melody lines here.
The end result is a good album which should appeal to anyone into eclectic prog. I like this album a lot. Check it out.
3 points